Warily watching people's eyes from above their mask, standing away from others, being unable to meet friends and loved ones, and halting all normal activities became the harsh new reality of our world. The coronavirus (COVID-19) pandemic first identified in Wuhan, China, quickly spread throughout the world like wildfire. The pandemic created extreme economic, social, health, and educational strains. All over the world, businesses were shut down, jobs were lost, poverty, food shortages, and social inequalities were exacerbated, and the health of all was threatened. Most importantly, it directly impacted people's livelihoods. Worldwide, more than 250 million cases of coronavirus have been recorded so far and over 5.05 million people have lost their lives to this deadly virus. Unfortunately, these numbers still continue to rise.
During these extreme times, lockdowns were crucial measures taken to keep individuals and communities safe. However, this isolated and foreign experience had immensely harmful impacts on youth and children.
In Brazil, children faced isolation from their friends in addition to reduced access to educational and recreational activities. Consequently, this presented serious mental health challenges for the youth. For many children, it may have felt like they were trapped in a prison out of a dystopian movie.
Additionally, for already socially vulnerable youth, the COVID-19 pandemic exacerbated their situations and highlighted the barriers affecting them in Rio De Janeiro. From the favelas of São José and Serrinha to the hillside slums in Praca Seca, many boys and girls live in some of the most disadvantaged communities in Rio de Janeiro. Specifically, these children face significant barriers in their development, including a lack of access to basic rights, a lack of educational and nurturing environments, and high levels of violence. The pandemic worsened conditions for already at-risk youth by increasing their vulnerability to violence, abuse, and exploitation.
During these difficult times, Jadir Taekwondo Association (AJTKD) has adapted content and developed innovative ways to help their students and youth in their communities stay active, healthy, and safe.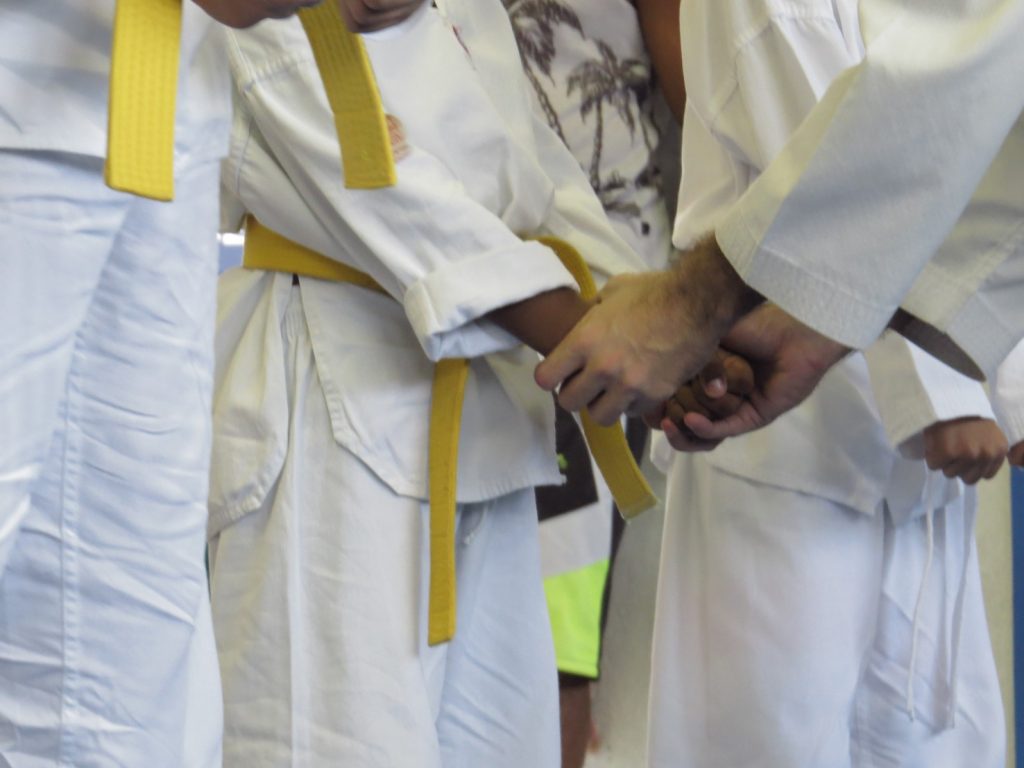 During the beginning of quarantine, AJTKD created a digital platform with a series of educational videos about physical activity to help children and youth cope with boredom, stress, and lack of physical activity. In these remote sessions, coaches led various physical activities and guided students to accomplish a variety of SDG (UN's Sustainable Development Goals) related challenges. These videos were made available on AJTKD's digital platform, reaching students from over 20 different regions of Rio De Janeiro. Ultimately, these videos kept students committed to physical activity and in making their communities a better place.
In addition to educational videos, AJTKD's online platform has been continuously updated with diverse, informative, and engaging content. Through its digital channels, AJTKD provided accurate COVID-19 updates and information to inform children and their families on how to protect themselves. In addition, the non-profit organization also held webinars and online learning workshops for its leaders and coaches to navigate through the challenges presented by the pandemic and to collectively find solutions.
Additionally, 360 videos and virtual reality for students during the pandemic provided engaging and refreshing experiences to light up the children's lives. AJTKD has continued to innovate and invest in new technologies concerning the development of sports and education, and these experiences have proven to illustrate the positive impact it has had on children. By seamlessly switching AJTKD's method of engagement with their students to online delivery, children and youth could safely continue their development and maintain virtual contact with their peers.
At its core, AJTKD helps children break down barriers and seeks to empower youth through the power of sport. The organization fights for a greater goal of helping youth from underprivileged communities through five key areas of action – social inclusion, peacebuilding, health and well-being, gender equality, and environmental education, which align directly with the UN's SDGs. Despite the difficulties faced by the organization during the pandemic, AJTKD continued to advance their areas of action, fight for change, and prioritize their youth first.
As the COVID-19 pandemic continues to this day, AJTKD is continuing their online activities and reaching out to the youth. Despite the distance and hardships, AJTKD brought warmth and connection to their communities. At the end of the day, not even a global pandemic can stop AJTKD from helping and protecting youth.