Candida Couras has been the psychologist of the Jadir Taekwondo Association (AJTKD) for two decades, and her work began when her son, as a teenager, met and trained with Master Jadir and introduced her to the project. She had just graduated from college, but when she got to know the project, she felt motivated to help the Association.
How did you start your work with the Association?
When I was already performing clinical care, some time after graduating from college, my son spoke to me about the work that Jadir carried out with children who took part in the project, and invited me to see it in person. I felt very motivated by their work and by the relationship that existed between the team, the children and their parents. Students who already had more knowledge in Taekwondo helped the younger ones during the classes, which stimulated them.
As a psychologist, I thought that maybe I could lend a hand to the group and assist in the project. I talked in detail with Masters Jadir and Paulo. I tried to read more about Taekwondo to get to know its philosophy and learn about the practice of this Olympic sport. For me, it was very stimulating and knowledge-adding to learn more about Taekwondo and deal with children and their parents. I started to actively participate in the weekly meetings of the students, observing the children, their instructors, talking to their families, promoting monthly meetings and being willing to listen to them, if needed, individually or collectively. In the monthly meetings, we held a conversation circle looking to exchange experiences and integrate everyone.
What was your motivation for working with the Association?
Despite having gone through internships at the university in several areas of psychology, I worked with individual clinical care in daily practice. When I realized that the Association's work was solid, guided by the teachings of Taekwondo – faithful to the sport, humanized and with a lot of dedication on their part, of love for their work and for others – I was delighted and decided to take part.
For me, as a psychologist, it has been a work of intense exchange: with parents, students and also with the team that works with them. When assisting families, if a matter becomes private, I give them individual assistance. It can also be done in small groups, in a private room where the classes take place, according to demand. Welcoming, listening and being accepted gives the children confidence, which encourages them to search for a better solution for their own lives.
At the beginning of this work with AJTKD, my daughters also went with me, and we were there almost every Saturday. There were many children with their families. We started to hold parties on festive days. For the Christmas celebration, we got support from local businesses, collecting groceries and non-perishable food to donate basic food baskets to families in need, which was almost all of them.
Students who took part in the project studied in municipal/state schools. To find out how these students performed and how often they attended classes, I had the opportunity to visit their schools, together with Master Jadir. We wanted to make sure they were going to school and improved their grades.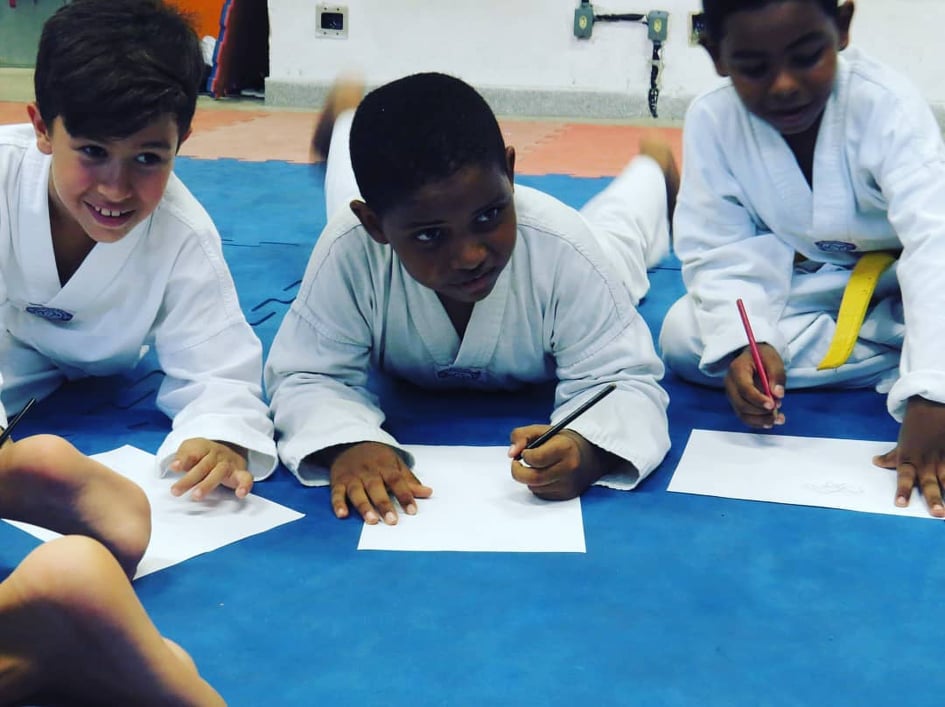 How do you see the evolution of the participants over more than two decades?
The evolution of a child or adolescent who practices Taekwondo is perceived as their physical and mental abilities combined and lead them towards victory in a competition. Not only does emotional maturity and self-confidence contribute to the development of an athlete, children and young people depend on who raises them and their connections. Projects like AJTKD, which engage with students and their families, contribute a lot to the development of mindful young people and a healthier society.
How important is a psychologist in a job like this?
The role of a psychologist is to listen, to know the students and listen to their parents, to give guidance, support, encouragement and reflection for students, parents and teachers. We can understand how important the family is for the development of a child's education, which is the preparation for the next stages of life, such as school and future social life.
The work developed by AJTKD contributes to achieving the United Nations' Sustainable Development Goals (SDGs). How do you see the importance of this?
Our work certainly contributes to achieving the SDGs. AJTKD moulds young people to be more responsible and mindful, to care for others, to preserve the environment; and all these aspects are part of the foundations of Taekwondo. In my opinion, Taekwondo is a sport that favors not only individual growth, but also collective growth. That group of students start to feel like brothers and sisters. We see the strengthening of friendship and respect for each other, for their parents and families. I believe that the more this can be expanded, the more we will have environments that will appeal not only to those involved in the sport, but to those around it as well. Everyone should, at some point in their lives, go through the teachings of Taekwondo and practice this sport, which is good for the body, mind and soul.