For decades, sport has brought together people from all over the world regardless of their age, gender or ethnicity, to inspire and unite everyone. In Nelson Mandela's words, "Sport has the power to change the world. It has the power to inspire, the power to unite people in a way that little else does. It speaks to youth in a language they understand. Sport can create hope, where there was once only despair."
Today, as the world recovers from the Covid-19 pandemic and is trying to get back on its feet, the role of sport is even more important to create hope. In line with the current scenario, the UN has declared the theme for 2021 International Day of Peace as "Recovering better for an equitable and sustainable world".
Sport doesn't just support physical well-being, but also creates a recreational space for the youth to promote mental development. It provides a space for the upcoming generation to interact, learn social skills, have a cultural exchange and develop their personalities in a positive environment, thereby building a community.
Globally, we have noted the role of international sporting events such as the football World Cup, Cricket World Cup and Olympic Games in easing international tension, providing an avenue for countries to collaborate with each other and also a safe atmosphere for the people. It promotes universal values and is not limited to language or cultures. It plays a crucial role to help improve the welfare of the planet and people. For instance, sporting icons, who are idolized by the youth, become global ambassadors of peace and unity. Sport, therefore, has the power to unite people beyond borders.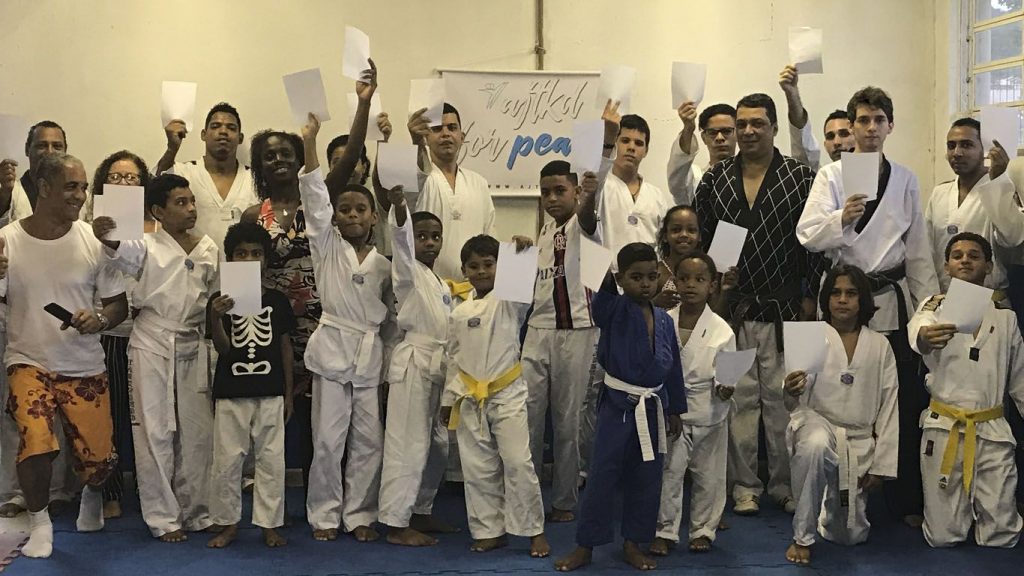 Taekwondo for peace in Brazil
In Brazil, sport continues to play an important role to inspire the youth of the country and combat violence. For over two decades, the Jadir Taekwondo Association has been transforming the lives of children and youth through sport. When AJTKD was founded, there was an on-going debate over wide-spread violence in the country and how to tackle the issue that was causing significant harm to the younger generation. This led to the implementation of activities aimed at developing a culture of peace and harmony, promoting dialogue and reflection on situations experienced in daily life, and proposing a new vision for students in the face of violence.
Today, their activities reach young people, mainly socially excluded groups, offering taekwondo classes with the aim of preventing drug use, combating violence and promoting peace. Over these years, AJTKD has assisted over 7000 children and youth through its activity hubs implemented in communities with high levels of violence.
Youth from low-income households are more susceptible to violence and drug abuse due to the social and economic challenges they face on a day-to-day basis. AJTKD has trained professionals to provide lectures, develop group dynamics and provide assistance to students and their families.
The importance of sport as a vector for development and peace is also recognized within the institutional framework of Lex Sportiva and international law. Furthermore, the Olympic Charter has also noted that the objective of the Olympic Movement is to contribute to the construction of a better and peaceful world through the education of young people through sport, practiced in accordance with Olympism and its values.
Sports present a strong alternative for the youth who grow up in neighbourhoods where urban violence is prominent till day. One such neighbourhood is Madureira, located in the northern part of Rio de Janeiro. Therefore, AJTKD aims to support children and get them involved in the sports and provide them with Taekwondo training. As part of the programs and workshops, the students don't just learn Taekwondo techniques, they also learn the five key principles and values of this martial art, and they take an oath to "building a more just and peaceful world".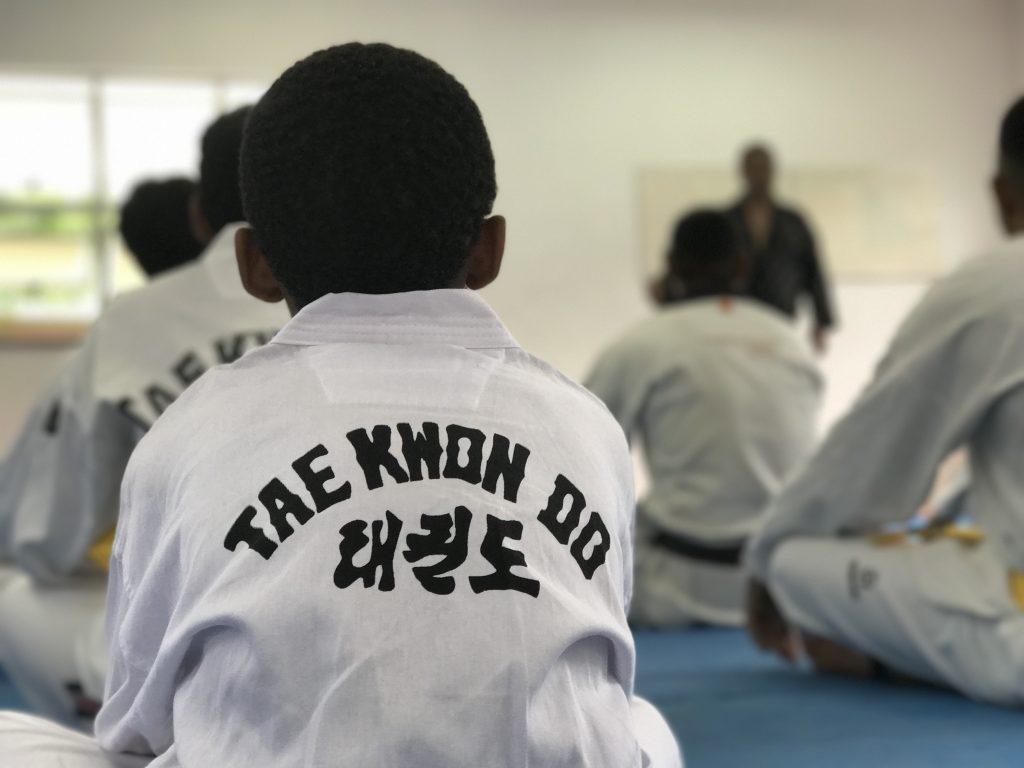 Master Jadir Figueira, president and founder of AJTKD, who has grown up in the locality and found a direction in life through taekwondo, summarizes his experience: "Sport has the power to create an environment for interaction among young people, in order to build positive relationships, for the promotion of peace."
In 2015, a monument with the five Olympic rings was installed in Madureira Park, one of the largest parks in the city. AJTKD also launched its Peace campaign at the Madureira Park to reflect its commitment and engagement in the struggle for peace with the objective of sensitizing students, families and the community to the problem of violence, and showing that change depends on their individual attitudes. AJTKD also held educational lectures, demonstrations and Taekwondo classes as part of its Peace campaign, in addition to activities with other civil society organizations.
The UN also recognizes the importance of sports and the 2030 Agenda for Sustainable Development states that "Sport is also an important enabler of sustainable development. We recognize the growing contribution of sport to the realization of development and peace in its promotion of tolerance and respect and the contributions it makes to the empowerment of women and of young people, individuals and communities as well as to health, education and social inclusion objectives."
The popularity of sport and its power to reunite people makes it a powerful voice to communicate the message of peace at global and local levels.