How AJTKD's students make their mark in what is set to be the largest urban garden in the world on World Environment Day. 
A mission to preserve
In celebration of World Environment Day, students from the Jadir Taekwondo Association (AJTKD) took action to restore and protect the environment by planting trees to build the world's biggest urban garden.
The Garden of Madureira Park, located in Rio de Janeiro, is set to become the world's largest urban garden by 2024 and ultimately the size of 15 soccer fields, connecting five Rio de Janeiro favelas.
This initiative is meant to produce affordable and accessible organic produce while providing income streams to disadvantaged families. With every tree planted, the urban garden points toward a greener and more sustainable future.
In collaboration with Madureira Park, AJTKD's students embarked on a mission to make a difference. The students, dressed in their dobok, participated in planting trees in the garden, envisioning a future where urban spaces flourish with greenery.
Accompanied by Master Fialho Figueira, the President of AJTKD, students entered the park clutching their small trees as they learned to dig and plant healthy trees. Through their tree-planting activities, the students had a mission to preserve the environment and the future of our planet.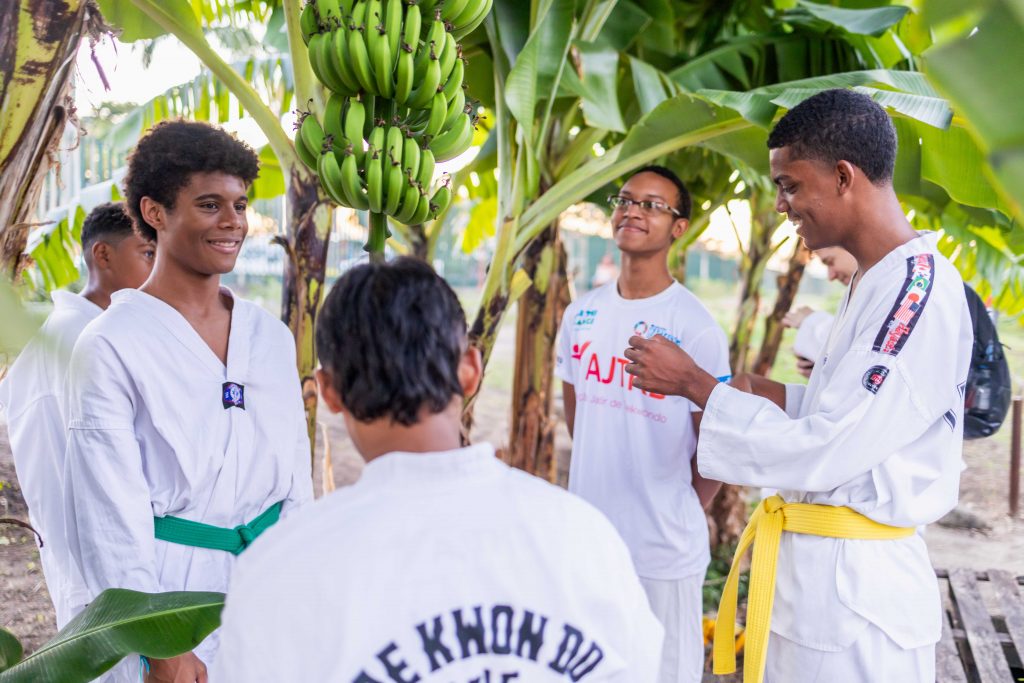 From kicking to planting
To these students, the relationship between taekwondo and environmental protection is rooted in taekwondo principles of balance, discipline and respect.
Physical and mental balance are crucial principles in Taekwondo that underlie the sport's movement and nature. This principle of balance also extends to environmental protection as the balance between the natural environment and humans is crucial to being mindful of our surroundings.
Discipline is also a fundamental principle in Taekwondo as training and movement involve precise self-control. However, discipline doesn't just apply to the sport, but also to environmental preservation as discipline is required to consciously make eco-friendly actions such as recycling or choosing to ride public transportation instead of driving.
Lastly, respect is one of the most significant guiding beliefs of taekwondo. Students must respect themselves, others around them, their broader community and the natural world. By learning to respect nature, students learned about the interconnected relationship between humans and the environment and how respecting the planet is also a way to respect ourselves.
Nurturing growth
After the tree-planting activities, AJTKD's students attended a lecture on plastic pollution, following the theme set by the United Nations for this year's Environment Day. Through the presentation, they discovered the alarming impact of plastic on our planet as well as its diverse ecosystems.
Alongside the lecture, students had the opportunity to enrich their learning and experience a virtual reality trip to the oceans to understand how plastic pollution affects biodiversity. By witnessing firsthand how plastic pollution adversely affected marine biodiversity, students were ignited with a sense of responsibility toward our precious aquatic ecosystems.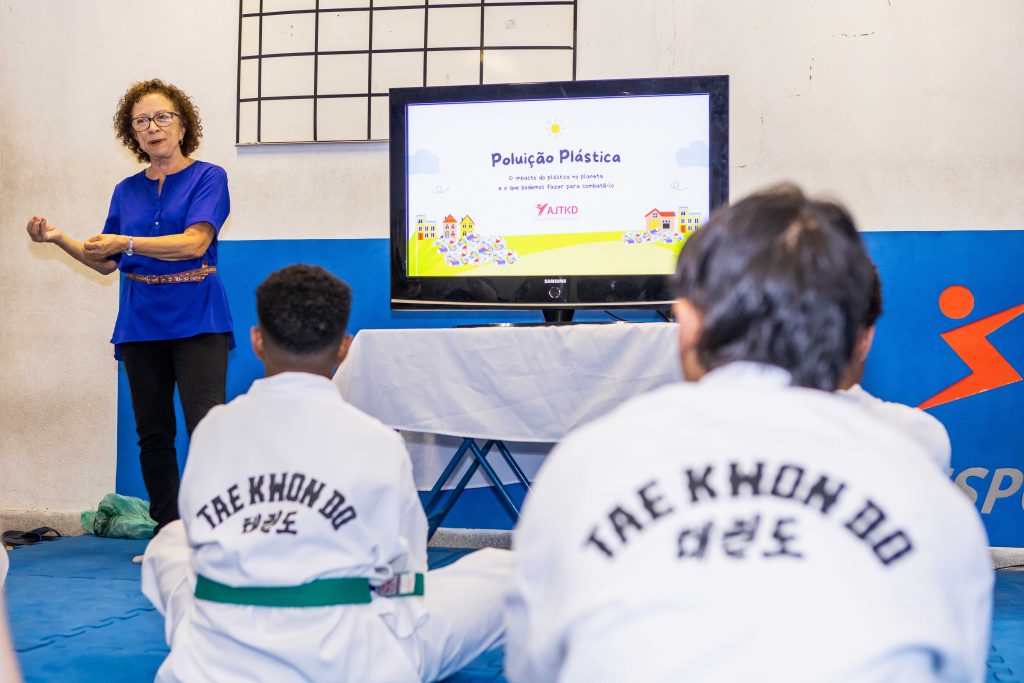 Growing roots and inspiring change
Many students and their families felt inspired by this initiative and here are their testimonies:
Alexsander Martins, a 17-year-old yellow belt, AJTKD student said: "Planting trees with AJTKD was amazing. I have been learning about the importance of taking care of the environment, ever since I joined AJTKD. Participating in this activity in a green space associated with AJTKD was truly incredible. AJTKD runs several projects dedicated to improving the environment. This planet is ours, so we have to take care of it. It was incredible."
Thiago Garcia, an 11-year-old green belt, AJTKD student said: "In the future, the trees we planted will have developed well and will be bearing fruit for our society. This is excellent."
Bárbara Garcia, Thiago's mother, said: "It was very important to encourage planting trees, an act of awareness that will forever be in my son's memory. Through this work, AJTKD fulfills the necessity of the newest generations to think about and care for the environment. It recognizes that through these actions, we can create a better future for the planet."
Planting the seeds of change
Since 2000, AJTKD has always been committed to raising awareness about environmental protection and taking action against climate change. Dedicated to the United Nations Sustainable Development Goals (SDG), they aim to take urgent action to combat climate change and its impacts as it poses one of the greatest threats to humankind.
Indeed, in 2022, AJTKD received the Teamwork Award of the BBC Green Sports Awards for their outstanding efforts as a sports organization in educating and involving the public in addressing climate change.
Through AJTKD's activities, they are planting seeds of change and inspiring the next generation to become environmental guardians. These students, united in the spirit of taekwondo, are forging a sustainable path toward a greener future.