Read the inspiring story of Master Jadir, from being a child from the suburbs of Rio, through to becoming a Taekwondo master and Head Coach of the National Team, and transforming the lives of thousands of young people through Taekwondo.
The story of Jadir Fialho Figueira is intertwined with the history of Taekwondo in Brazil, and involves fighting for improving the conditions of socially vulnerable children and youth. In addition to more than two decades of dedication to the Jadir Taekwondo Association, Master Jadir made significant contributions to the technical committee of the Taekwondo Federation of the State of Rio de Janeiro and the Brazilian Taekwondo Confederation. Jadir was responsible for the creation of several projects, both at local and national level.
Born in the 1960s in Madureira, a suburb of Rio de Janeiro, and the birthplace of Samba Carioca, Jadir was the middle child of a family that struggled to provide the best life for their son. Despite many achievements in his adult life, Master Jadir's childhood was marked by many visits to hospital due to his poor health. In 1975, a doctor changed the young man's destiny, suggesting that he should practice a sport to help with his treatment. An orthopedic boot was needed for easier locomotion, as his heel did not reach the ground. His working-class father purchased the best boot he could afford. He wanted his son to become a football player. One day, Jadir even woke up with a football shirt, cleats, and shorts to take a test at school.
"After talking to a gentleman who owned a football school, my father said he was going to take me there. There it became evident that I did not identify with football", remembers Jadir.
The family incessantly sought the healing of their son. Jadir's cousin was part of a social project in Campinho, a neighborhood in the North Zone of Rio de Janeiro. She practiced Judo and wanted to take the boy to Taekwondo classes.
"I was a very sick boy, but I was passionate about fighting because at that time we were very influenced by Bruce Lee's films, the David Carradine series, Kung Fu…"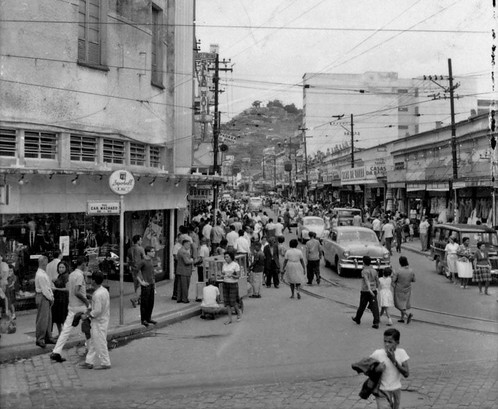 The first Taekwondo class
Jadir's cousin ended up convincing him to take a trial lesson.
"When I arrived, I saw a man about my father's age, who turned to me and said, 'You're going to take off your shoes, you can't step inside with them. The first thing you have to learn is the rules that we have in here'. Since my father had talked to him before, I thought I was getting special attention, but later I realized that this attention was directed towards everyone who arrived there".
Classes were taught by Carlos de Deus, one of the pioneers of social work using Taekwondo in the State of Rio de Janeiro. From that moment on, Jadir was immersed in a ritual of discipline and respect that impacted him forever.
"I was introduced to a group of students. Carlos de Deus told me: 'Each one of these students will contribute to your success and you will contribute to theirs'. He started highlighting the importance of teamwork. He would sit at the beginning and end of class to talk to us about the principles and values ​​of Taekwondo and set goals for each of us. At the same time, he did very strong motivational work."
Many of the young people who participated in that social project were financially deprived. Young people who achieved new belt ranks became supervisors for the minors. All that work was essential for the improvement of Master Jadir's health. He recalls that upon arrival at the social project for the first time, he saw boys kicking a ball elevated by a rope and was impressed.
"I could barely run, now imagine kicking that thing. But Carlos de Deus told me, 'One day you'll make it'. In less than a year, I was jumping and kicking that ball. My evolution happened gradually and my health improved."
Taekwondo became a passion for Jadir and his practice was not limited to training; it also extended to his life outside the gym. After some time practicing Taekwondo, a doctor informed him that he no longer needed to wear the orthopedic boot. The boy went on to have good health and became a disciplined young man full of dreams. "The experience I had there completely changed my way of seeing the world, and this had a big impact on my life. Some people mark our lives and leave messages that never fade. I can say that Carlos de Deus was a person who brought me a learning experience that I carry to this day. I stayed there for a while and it was the beginning of my story. If it wasn't for the project, I wouldn't have known Taekwondo".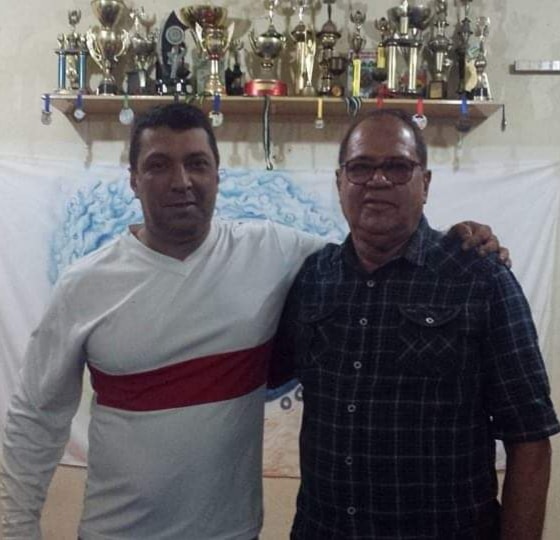 The beginning of a coaching career
In the '80s, Jadir started training at a gym in Botafogo with Grand Master Yong Min Kim, where he graduated as a black belt after years of dedication. Jadir then started teaching Taekwondo at Jacarepaguá Tennis Club, in the West Zone of Rio de Janeiro, where students paid a monthly fee. He noticed that some boys from neighboring communities watched his classes through the window until security kicked them out. This caught the coach's attention. After approaching them, Jadir discovered that they wanted to take part in the classes but were unable to pay.
"I made a proposal to the club president and the sports director so that we could have scholarships for these boys and that they could participate in the activities. We managed to include these boys and allowed them to have free access to Taekwondo practice. Over time, many of them became champions."
After 14 years of dedication at Jacarepaguá Tennis Club, the teams evolved and achieved incredible results until they became well-known in the region.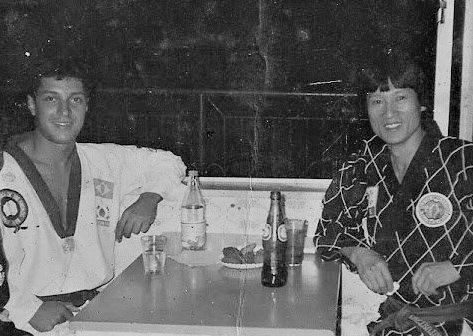 The creation of AJTKD
Given concerns about youth in the club being exposed to drugs and violence, Master Jadir wanted to expand his support work, but he knew he wouldn't be able to do it alone. A student's father, Mr. Valdir Gomes, along with other interested parents, former athletes, and educators helped him to structure the project. In 2000, this group helped Master Jadir to found the Jadir Taekwondo Association (AJTKD).
AJTKD was founded in Madureira, the neighborhood where Master Jadir was born and grew up. He aimed to expand the Association's service capacity and the Community Taekwondo project created more access to the sport. Additionally, psychological and educational support was provided for families and children in need.
"We realized that there was a need for greater involvement of parents and we started to develop activities aimed at families. We also started to notice that with floods of new students, talent began to appear, so we started work focused on competition training. We started to identify and select some boys who could be trained for Taekwondo competitions.
"Many reported having difficulty eating; some only had one meal a day. We developed a basic food basket program to serve these children. In a year, we collected two tons of food for these families."
Taekwondo officially debuted as an Olympic sport at the 2000 Summer Olympics in Sydney, the same year AJTKD was founded, increasing the demand for the sport. Initially, the objective was to assist young people in and around the community, but the Association began to receive students from various locations in Rio de Janeiro. Over time, there was an increase in volunteers, many of them former students of Master Jadir.
"Many children who practiced with us grew up, graduated in specific areas and then returned to be volunteers. Somehow, our project impacted the lives of these young people to the point where they wanted to return to help other young people have the same opportunity they once had. This motivates me."
In 2004, AJTKD's work gained even more visibility when the Association started a drug prevention project, which obtained an institutional partnership with the United Nations. In that same year, the team received a certificate of recognition for the relevant services provided to Taekwondo, issued by the Brazilian Taekwondo Confederation (CBTKD).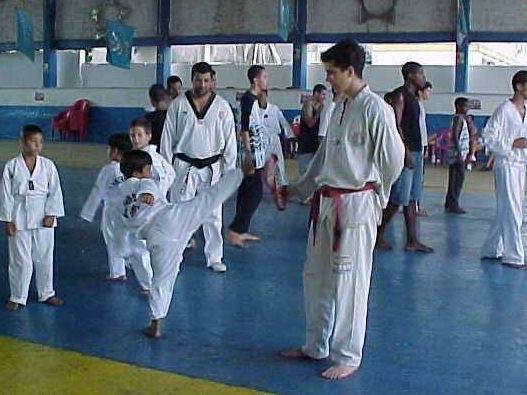 The Brazilian National team
In 2009, at the request of Grand Master Yong Min Kim, AJTKD Master Paulo Rocha and Grand Master Jadir developed the Taekwondo in Schools project. Thus, Taekwondo was included in an educational program by the Federal Government of Brazil called Mais Educação, attracting over 1,000 schools throughout the country.
In 2011, Master Jadir was invited by CBTKD to lead the National Technical Coordination. Paulo Eduardo Rocha, a member of AJTKD since its foundation, and Danilo Malafaia, administrative director of AJTKD, took over the technical management of the team along with Jadir. In addition to the Association, Jadir coordinated the Rio de Janeiro Federation's technical department, which yielded good results for Taekwondo in the State.
"When we took over the technical direction of Brazilian Taekwondo, we already had a lot of experience with training athletes. I already had several competitors on my team, in addition to having worked countless times as coach of the Rio de Janeiro State Team, having won the national championship in 2010. So, we already knew the hardships faced by athletes and coaches. We made a deep analysis of national Taekwondo.
"Our first measure was to create the national ranking system and a new qualifying system for the Brazilian National Team, so that everyone could compete on equal footing. Given that the competitions were very centralized in the south and southeast regions of Brazil, we also started to invest in the north and northeast regions, holding competitions throughout Brazil, to enable people from those areas to take part."
The national ranking system was so impactful that the number of athletes competing increased from 400 to 4,000 in just three years. Also in 2011, the Under-21 category was implemented to create a transition between the youth and senior categories, facilitating the rise of competitors according to age. In addition, the Cadet division was introduced in Brazil.
There was also an intense commitment on training referees and coaches. To increase Brazilian participation in international refereeing, in 2013, the training and recycling course for international referees from the World Taekwondo Federation was brought to the country. The course had the participation of referees from different countries, who trained a large group of Brazilian referees, which contributed to the evolution of Taekwondo and a greater representation in the international scene.
To promote recycling and training of coaches, in 2013, Jadir and Paulo presented a proposal for national-level training by bringing coaches from other countries to Brazil. In the same year, Brazil hosted Kukkiwon's international course for instructors, and Taekwondo became part of the Brazilian Academy of Coaches (ABT), a program of the Brazilian Olympic Institute (IOB).
In 2014, a project arose to prepare the Brazilian team for the World Youth Taekwondo Championship and the Youth Olympic Games. Through this project, youth athletes were sent to a training camp in South Korea and China. This project resulted in a gold medal in the World Youth Championships and the Youth Olympic Games. From 2011 to 2015, under Jadir's coordination, Brazil earned over 160 medals in international events.
"When we started working in the Confederation, Master Jadir said that everyone needed to have equal opportunities, and so we sought to create fair and transparent criteria", remembers Paulo.
"Our idea was to create a national-level project that could equally benefit everyone, regardless of the region they were from", says Jadir.
Continuous work and inspiration
In 2015, Master Jadir decided to end his cycle in the Confederation and fully dedicate himself to the Jadir Taekwondo Association. It was a moment of restructuring, with new projects, new students, and new volunteers working in Brazil and abroad.
This year, AJTKD held, for the first time, an event at the United Nations. With presentations by several members and volunteers of the association, the event "Social Inclusion through Sport" was a success. Master Jadir spoke about his life experience, how taekwondo helped him to overcome difficult times and how this martial art inspired him to help others. He explained that sport is essential when it comes to his work with children from underserved areas of Brazil.
This month, the Association celebrates 22 years with a great challenge: to increase the number of children and youth assisted.
Master Jadir proudly speaks of his legacy: "We have won many national and international awards, but the greatest achievement was having made it possible for more than 7,000 children and youth to have access to sport, to have the same opportunity we had."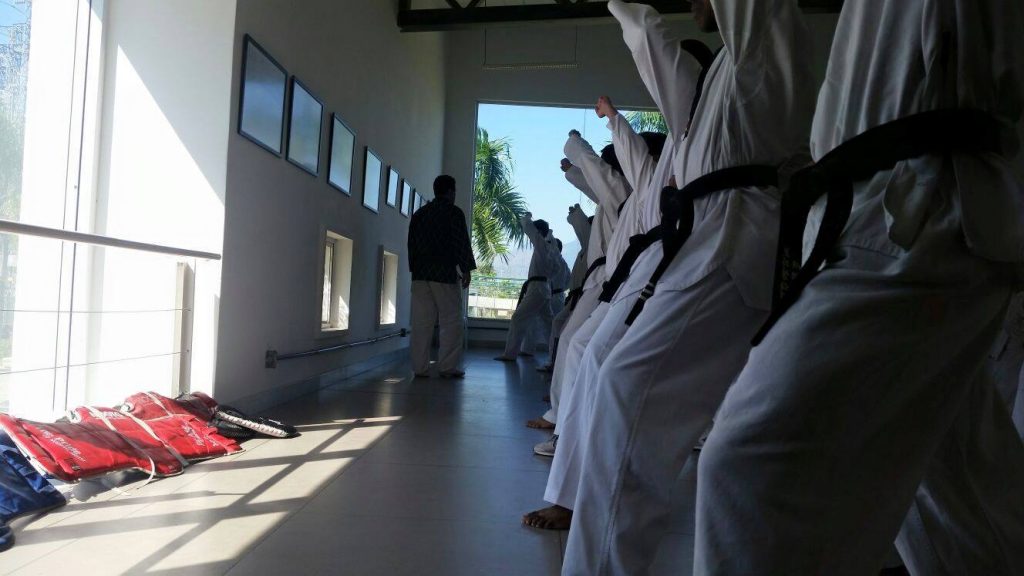 And so, that boy who walked with orthopedic boots, who was forced to face great challenges, discovered Taekwondo; a sport that transformed his life and inspired his mission to change the lives of so many other young people through sport.
"Taekwondo is part of my life story. I am very happy to have contributed to transforming the lives of many children and young people through sport. I believe that a simple opportunity can make a difference in a person's life".